Salesforce
Salesforce is a well-known American Customer Relationship Management (CRM) software company. Salesforce provide platform for services, sales, marketing, E-commerce groups all across the world. Salesforce is world leader in CRM Platform.
Customers, partners, and future customers may all benefit from Salesforce's cloud-based services. Read more
What is Commerce Cloud?
Commerce cloud from salesforce is an e-commerce platform that enables companies to create consumer-driven unified commerce experiences across channels, including mobile, social, web, and store. It has two components – Salesforce B2C Commerce and Salesforce B2B Commerce. Together they can be used to deliver end to end unified commerce.
Benefits of Salesforce's Commerce Cloud:
Salesforce's Commerce Cloud is not only easy to work with, it also has enough versatility that you can easily add functions and extras down the line should you ever decide you need them (although we doubt you'll need much more than it has to offer)!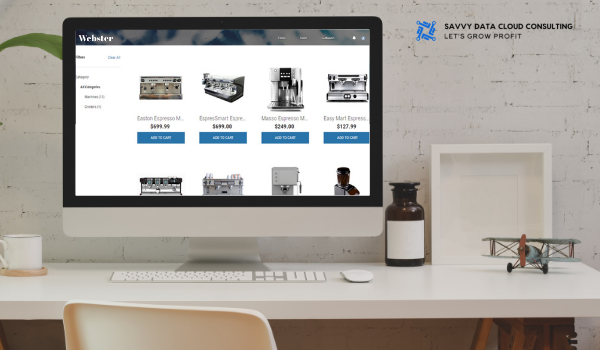 Features
Salesforce's
Commerce Cloud
Salesforce has made it easier for companies to build their CRM into a total E-commerce platform. Using Salesforce's Commerce Cloud, all of your customer interactions are recorded from day one!
Some of the best features are as follows:
Manage The Complete Order Lifecycle
Salesforce Order Management helps users to manage orders more thoroughly. This can help drive sales, improve the overall customer experience and help keep track of order histories.
Build Commerce Experiences Quickly
Page Designer helps to design, schedule and publish your website's pages with an easy drag & drop interface for customers. It has powerful features that make it easy to build new web pages.
Unify Products, Pricing & Catalogs
Commerce cloud is boasts simple merchandise features with a centralize view of your products and pricing across a multitude of sites. They offer multiple language and currencies capabilities
Get To Market Faster
By developing business-to-business e-commerce opportunities, you can approach potential investors faster and capture your share of today's ever-growing business because it is projected to grow exponentially in the next four years.
Embrace API-First Commerce
API is one of many tools that can help you build and extend amazing shopping experiences, which bring forth core B2C ecommerce functions to third-party apps. API is a tool that delivers core B2C ecommerce functions to third-party apps.
Go Global In Record Time
One of our goals is to make sure that you have the tools and knowledge at your fingertips so that you can have the freedom to carry out a variety of techniques tailored to your project's specific needs (at any given time).
Drive Revenue With Customer Insights
Ecommerce customers can be targeted by browsing products, surfing through coupons and ads, or finding brand recommendations. Explore the true customer behavior patterns with ecomdash to connect your product with consumers when they want it the most.
Solve B2B Commerce Complexities
B2B makes it easier for customers to buy from stores by offering a product catalog that can be accessed quickly and easily. B2B makes it easier on businesses because companies won't need to create individual orders and they won't need to organize customer data as much.
Stay Connected Across Every Touchpoint
Salesforce's Commerce Cloud can use your marketing and sales data tools to stay connected with thousands or even millions of your customers in one place. You can interact with them from wherever, whenever and on any device using commerce cloud.
Need any help?
Book a Free consultation
Are you considering a customer relationship management system (CRM)?
Do you want to develop your business into a digital enterprise?
Are you looking for Salesforce's Commerce Cloud implementation services?