Conga
Conga was founded in 2001 and has since been working on new software engineered specifically as a solution to help companies who had previously struggled with effectively setting up their revenue management capabilities to be able to use this business tool. Read more
What is Conga Composer?
Conga Composer is a reliable tool which makes it easy to generate any kind of report, presentation or business document by populating template data with information pulled straight from any standard or custom Salesforce object. 
Benefits of Conga Composer:
Conga Composer is a lightweight and powerful editor that allows you to quickly create and customize salesforce templates by automatically populating them with salesforce data as well as text, images, and even video.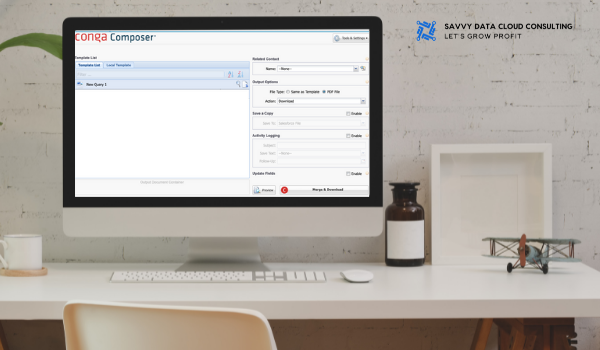 Features
Conga
Composer
With Conga Composer, it's easy to add more creativity to your documents from Salesforce by automatically populating richly formatted templates with data from any standard or custom object.
Some of the best features are as follows:
Document Generation
Conga Composer can help you create Salesforce documents/templates built on your specifications so that you can design and customize based on your industry's specific requirements.
Merge Data
Conga Composer creates Salesforce documents utilizing merge data from standard as well as custom objects on the platform and provides users with a variety of formatting options.
Tracking
Conga composer automates your document creation and distribution process. Whenever you generate a document from Salesforce, it will merge and generate document.
Automate Processes
You can setup automated workflows when you want to send multiple documents to your customer, like reports with charts and so on. It will help you a lot in Conga at the same time it is helpful to your customer as well.
Integrate E-Sign
After generating a Conga Composer document, you can send that over to your customer so they can sign it using the Sign feature in Conga Sign. After they have signed, the data will be stored in Salesforce.
Send And Save
Conga Composer will help if you want to share large generated documents or contracts from Salesforce that you want others to view. It will save automatically in Salesforce objects when you put in details such as a link.
Need any help?
Book a Free consultation
Are you considering a Conga Document Generate software?
Do you want to develop your business into a digital enterprise?
Are you looking for Conga CLM implementation services?