Salesforce's Service Cloud
Salesforce
Salesforce is a well-known American Customer Relationship Management (CRM) software company. Salesforce provide platform for services, sales, marketing, E-commerce groups all across the world. Salesforce is world leader in CRM Platform.
Customers, partners, and future customers may all benefit from Salesforce's cloud-based services. Read more
What is Service Cloud?
Service Cloud is a service-oriented customer service application. It provides businesses with the technology needed to build and sustain individualized, experiences and interactions.
Service Cloud (By Salesforce) helps businesses improve customer service efficiency through tools that help manage field services, online chat, CTI, and social platforms.
Benefits of Salesforce's Service Cloud:
Salesforce's interface is incredibly simple, flexible and intuitive. It has a wide range of capabilities for securing your data. There's little reason not to opt for Salesforce if you're looking to take your business to the next level and into the future!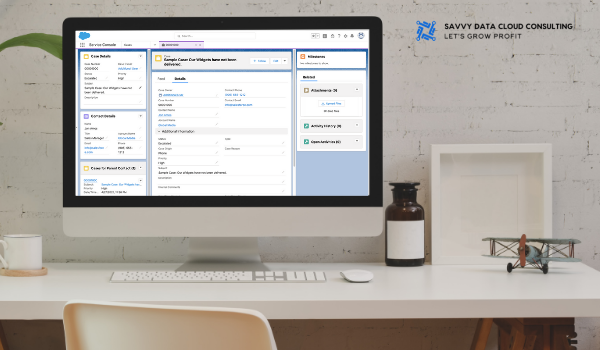 Features
Salesforce's
Service Cloud
Case Management
Case Management helps to resolve cases quicker because it effectively combines streamlined processes with access to full details and the context of customer cases and interactions.
Knowledge Base
Knowledge Base helps you to maximize agent productivity with searchable articles and images which align with service level needs. This will help end users to be quick and independent.
Omni-Channel Routing
Use Omni-Channel routing cases to the right agent at your convenience and with 100% Satisfaction. Track the activities of any contact creator to service customers' cases faster than ever before.
Service Analytics
Service analysis will help you predict with pre-build, apps, AI-powered insights & predications. Dashboard will help you to support operations any time, anywhere, from any device.
Process & Automation
You can make the automation processes dynamic. You can allow your customer to engage in a more automated and efficient experience when it comes their support service interactions with you.
Asset & Order Management
Salesforce's Service Cloud allows you to view all customer activities by tracking customer assets, orders and support history. Your agent and customers can track & manage orders with one click.
Lightning Console
The Console agent, which is very similar a service to the Lightning Experience, can be used to watch of all customers using tools like macros and pre-written content that have been prepared for such instances.
Automation With Macros
Macro automation is a type of AI that can be used to automate repetitive and multistep tasks for helping customer service agents like you handle common issues more efficiently.
CTI Integration
Agent will be able to spend less time on hold and more time solving customer issues by using Cloud telephony tools that update their phones with the latest Service Cloud updates.
FAQ'S
Read Popular Questions
Salesforce's Service Cloud enables your service department to work efficiently, improve customer satisfaction and delight your clients.
Salesforce's Service Cloud allows you to easily scale your customer service and improve the customer experience across all channels, including voice, SMS and social messaging.
Salesforce's Service Cloud includes a powerful case management system that enables you to keep track of all customer conversations and support issues.
Yes, You can find all customer data using Service Cloud. Services such as Salesforce CRM and Salesforce Einstein provide you with the ability to find all customer data using AI-powered predictive analytics & insights.
Yes, You can connect CTI system using Service Cloud. Once you have connected your CTI system to Salesforce, it will be integrated with your Contact Center or Help Desk.
Yes, You can set up a routing rule that routes customer case to the right support team. You can set up rules to route your cases based on multiple parameters and conditions.
Need any help?
Book a Free consultation