DocuSign
DocuSign, Inc. is an American company headquartered in San Francisco, California, that allows organizations to manage electronic agreements. As part of the DocuSign Agreement Cloud, DocuSign offers eSignature, a way to sign electronically on different devices. DocuSign has over 1 million customers and hundreds of millions of users in more than 180 countries. Read more
What is DocuSign E-Signature?
Get the most out of your remote working experience to get things done faster and easier. DocuSign Is the world leader in digital signing services, who provide eSignature while you work on outside projects allowing you to create agreements, contracts and more.
Benefits of DocuSign e-Signature:
DocuSign E-Signature is a online signature cloud based solution which is  Faster, efficient, connected and secure with your customer anytime and anywhere.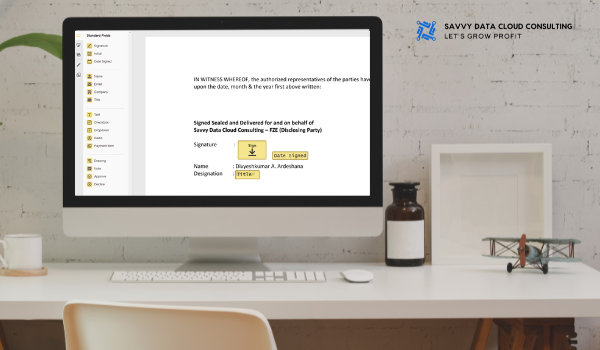 Features
DocuSign
E-Signature
With DocuSign E-Signature, it's easy, faster to send document, contract for customer signature and make your deal done. DocuSign connect with Salesforce data from any standard or custom object.
Some of the best features are as follows:
Sign from Anywhere
In today's paperless world, sending and signing documents on-the-go is easy! Just download our mobile responsive web app or highly rated mobile apps.
Secure Platform
A platform that provides you with the tools to make sure your customers' data is safe and protected, even when they're communicating with someone overseas.
Route Documents
Route project documents to multiple team members in either a sequential or parallel manner to ensure the approach you take is tailored for your specific internal processes.
Custom Details
Add standard or custom fields to your onboarding documents, like signatures and dates, or create and save custom fields. Apply these fields in reusable templates to standardize processes and save time when creating new documents .
Branding
Reflect your brand on all of the documents your recipients are working on. Change colors and customize email copy and links that connect to pages with important information. This helps create a consistent experience for clients.
Real Time Status
DocuSign is a service that helps you to digitally track the statuses of documents in real time. This makes it easy to know for sure when a document was signed and by whom. DocuSign makes sure that each step in a document's journey.
Need any help?
Book a Free consultation
Are you looking to configure DocuSign E-Signature for your contracts?
Do you want to develop your business into a digital enterprise?
Are you looking for DocuSign implementation services?