Salesforce Sales Cloud Implementation
Salesforce
Salesforce is a well-known American Customer Relationship Management (CRM) software company. Salesforce provide platform for services, sales, marketing, E-commerce groups all across the world. Salesforce is world leader in CRM Platform.
Customers, partners, and future customers may all benefit from Salesforce's cloud-based services. Read more
What is Salesforce's Sales Cloud?
Salesforce's Sales Cloud is a cloud-based platform for sales teams. It has features for managing contacts, automating sales forces, projecting sales, and increasing efficiency.
Customer connections can be better managed, responsibilities can be prioritized, insights can be accessed by sales teams and management.
Benefits of Salesforce's Sales Cloud:
Salesforce's user interface is simple and incredibly intuitive, and it fulfils and surpasses the ease-of-use standard. When it comes to securing and protecting sensitive data, Salesforce is the best option. Because of its adaptability and customizability, Salesforce's platform can be used by a wider range of enterprises.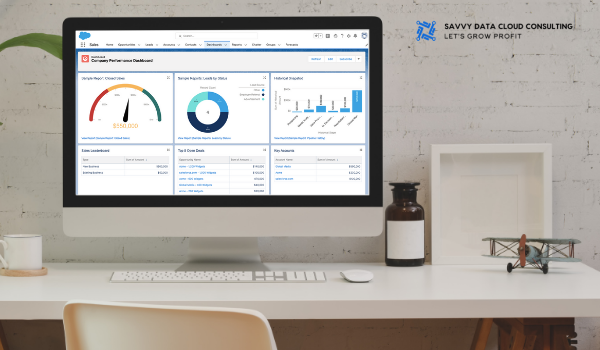 Advantages
Salesforce's
Sales Cloud
User-Friendly Interface
Salesforce has a very straightforward, adaptable, and basic interface. It provides a wide range of capabilities for data security. Making the switch to Salesforce is a wise decision if you want to advance and future-proof your company.
Improved Team Productivity
Service Cloud enables service teams to work more quickly, wherever they are.
Self-Service Portals
With self-service portals, you can give clients immediate assistance while empowering them to find answers on their own.
Multichannel Support
Supporting clients across several channels can let you effectively meet their demands at any time, on any channel.
Field Service Effectiveness
Utilize Service Cloud to provide dependable and effective field service.
Built-in AI
Use artificial intelligence (AI) to operate more efficiently, make better decisions, and offer better service.
Features
Salesforce's
Sales Cloud
Reports & Dashboards
Dashboards are an essential component since they provide you a brief perspective of your company's operations. Detailed information about your clients will be available to you in the reports section.
Sales Forecasting
Real-time insight into forecasts for all of your salesmen, as well as the ability to override detailed visibility for the management hierarchy, are all included in the Salesforce's Sales Cloud features.
Salesforce's Quote-to-Cash
Salesforce's Sales Cloud implementation allows you to have access to sales quotes, contracts and invoicing. It will help your sales staff close more deals. Collecting cash also becomes easier and quicker.
Contact Management
Salesforce's Sales Cloud provides full 360-degree view of your customers' activities management, contact management, interactions, and messages becomes easier.
Opportunity Management
With Salesforce's Sales Cloud solutions, you'll be able to handle all of your clients' inquiries, including the development of a quotation that includes all of their information.
Lead Management
Lead management allows you to keep track of every step of your sales funnel. In addition, make sure your sales team has time to follow up on the most promising leads.
FAQ'S
Read Popular Questions
Salesforce's Sales Cloud will help business to manage the customer information and streamline their sales processes.
The Salesforce's sales cloud helps your sales team track the most important information in their pipeline and close more deals, on time. 
Yes, you can import legacy system data in Salesforce. You can choose the most appropriate way to import the data and avoid data loss while taking care of your business.
The Salesforce's sales cloud will increase sales and make your day easier, by helping you get the information you need to make decisions.
Salesforce's Sales Cloud has accurate and real-time data reporting, dashboards, pipeline insights and more to make sales teams do their job faster, easier and smarter.
Yes, Salesforce is a secure online platform with a suite of security features designed to protect both your company and your customers data.
Need any help?
Book a Free consultation