Salesforce's Marketing Cloud
Salesforce
Salesforce is a well-known American Customer Relationship Management (CRM) software company. Salesforce provide platform for services, sales, marketing, E-commerce groups all across the world. Salesforce is world leader in CRM Platform.
Customers, partners, and future customers may all benefit from Salesforce's cloud-based services. Read more
What is Marketing Cloud?
Salesforce's Marketing Cloud is a platform we use to take the company's marketing automation and customer engagement to the next level. The integration works with email, mobile, social media, web personalization, content creation and content management.
Benefits of Salesforce's Marketing Cloud:
Salesforce's Marketing Cloud interface is very easy to work with, especially when you're new to the cloud. It has a wide range of abilities that make it perfect for companies that want to utilize a platform they can grow into without being constricted by boundaries in the beginning.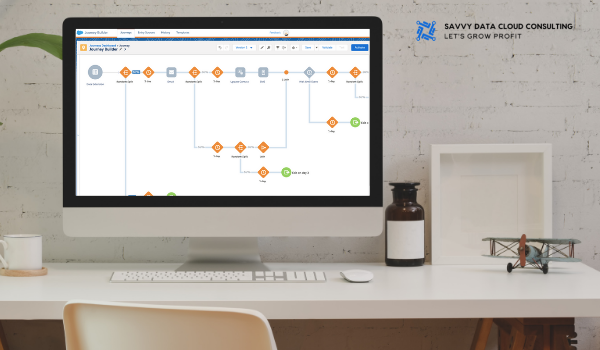 Features
Salesforce's
Marketing Cloud
Salesforce has made it easier for companies to build their CRM into a total marketing platform. Using Salesforce's Marketing Cloud, all of your customer interactions are in one place.
Some of the best features are as follows:
Journey Builder
Journey Builder helps marketers to improve customer experience rather than just collecting data. The software helps marketers to discover customers preferred medium, journey path analytics and loyalty building activities.
Email Studio
Email Studio helps you gain a better return on investment from your email marketing campaigns. It helps you send targeted, one-to-one email communications and end-to-end campaign development and content delivery capabilities.
Mobile Studio
Mobile Studio allows you to target your audience, automate message delivery, send SMS, MMS, push messaging & other messaging. Also Mobile Studio engages customers on the go with personalized mobile messaging based on their interests.
Social Studio
Social Studio comes with a built-on photo editor to help you fine tune images for your campaigns based on requirements. It helps to connect all your social data to all of your marketing activities by turning it into one digital marketing hub.
Advertising Studio
Advertising Studio can help take advertising to the next level. With Ad Studio you are able to communicate with and manage your followers on social media. You can also build audiences from social topics such as sports, hobbies.
Web Studio
Using Studio, a product manager is able to design unique web experiences for individual customers based on their preferences. This results in better overall customer experiences & leads to more effortless sales!
FAQ'S
Read Popular Questions
Marketing Cloud helps marketers deliver the right message, to the right audience, through the right channel at the right time.
Journey Builder is a platform for marketers. It helps you create, manage and optimize multi-channel campaigns to engage your audience.
Marketing Cloud's Social Studio allows you to engage your audience and track the performance of your social media efforts.
The Salesforce Marketing cloud allows you to reach prospects in the exact moments they're looking for solutions, with the right message and at just the right time.
Get insight into how customers use your products and services, gain new customers, and grow your business with Salesforce Marketing Cloud.
Measure the ROI of your marketing campaigns by tracking the number of leads generated and providing your salespeople with in-depth information about them.
Need any help?
Book a Free consultation